In a substantial project a variety of human factors knowledge and interface design techniques ought to be employed. We'll quickly look at three areas.
Understand the user
Humans have limited physical, perceptual and mental powers. Some of these are known by common sense; some have only been discovered as a result of psychological experiment or practical experience. An MSc student recently visited a local software company and, on being shown some of their systems, remarked on the fact that they were using upper case throughout their displays. At that stage she had only completed part of an HCI course but she already knew that words in upper case are normally harder and slower to read than lower case (see Box 1). Although the company instantly recognised the value of the advice, it was clearly not common sense. There is extensive knowledge about the human visual system and this can be brought to bear in practical design. Another example is the small angle over which we can see in detail: our ability to read or distinguish falls off inversely as the distance from our point of focus (see Figure 2). This sets limits on the amount that can be seen or read without moving one's eyes. Fitts' law is another example. This says that the time it takes to move a pointer or a finger to a target is proportional to the log of the distance moved.

Figure 2. Visual discrimination is inversely proportional to distance.
Fixate on the dot in the centre. The letters on the left should all be equally readable, those on the right all equally harder.
As introspection is notoriously flawed, we have even less common sense knowledge about the way we think, but some simple facts have direct design implications. An example of this is closure. This describes the 'done it' feeling we have as we complete some part of a task. At this point our mind has a tendency to flush short-term memory in order to get on with the next job. Early automatic teller machines gave the customer money before returning their bank card. On receiving the money the customer would reach closure and hence often forget to take the card. Modern ATMs return the card first! Happily you do not need to be an expert psychologist to design effective interfaces. A reasonably small collection of facts like those above, combined with a good pinch of common sense, will suffice in most situations.
Investigate the context
As well as general psychological properties of users, we need to know what sort of people are using the system. For example, a shop-floor worker is unlikely to have extensive typing skills! We also need to look very closely at the tasks which the user will perform with the system. There are a range of methods for examining the user needs to do and know in order to accomplish a task. These are called task analysis methods. Figure 3 shows an example of hierarchical task analysis which concentrates on the breakdown of high level tasks (like 'boil water') into lower level tasks (such as 'fill kettle'). The task may cut across several systems and involve both manual and electronic operations. Other forms of task analysis focus on the knowledge required for different parts of a task. One example of the use of task analysis is in the grouping of controls: those frequently needed for the same task can be placed together.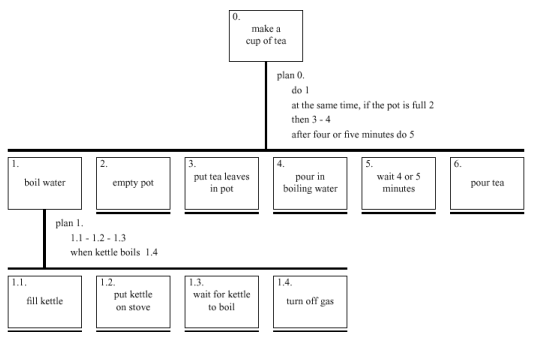 Figure 3. Hierarchical task analysis of tea making (from [1])
It is also important to look at the ways workers interact with one another. Detailed studies of the London Underground control room revealed how controllers unconsciously interpret subtle signs of one another's activity: a controller may prepare to perform some procedure before being asked to do so, based only on another's orientation towards a particular part of the control panel. Redesigning or installing new equipment may easily disrupt these undocumented working practices.
Analyse the interface
Probably the most obvious aspect of an interface is the visual appearance of the control panels or screens. The design of these can be guided by some of the user and task knowledge described above combined with some general rules such as those governing columns of numbers (see Figure 4).

  532.56       627.865
   179.3         1.005763
 256.317       382.583
      15      2502.56
  73.948       432.935
    1035         2.0175
   3.142       652.87
497.6256        56.34

Figure 4. Alignment and layout are important: find the biggest figure in each column
Remember that a pretty interface is not necessarily a good interface. Ideally, as with any well-designed item, an interface should be aesthetically pleasing. Indeed, good graphic design and attractive displays can increase users' satisfaction and thus improve productivity. However, beauty and utility may sometimes be at odds. For example, an industrial control panel may be built up of the individual controls of several subsystems, some designed by different teams, some bought in. The resulting inconsistency in appearance may look a mess and suggest tidying up. Certainly some of this inconsistency may cause problems. For example, there may be a mix of telephone style and calculator style numeric keypads. Under stress it would be easy to miskey when swapping between these. However, the diversity of controls can also help the operator keep track of which controls refer to which subsystem - any redesign must preserve this advantage.
One must also look at the order in which screens appear and operations can be invoked. Various dialogue description notations can be used to record this order. For example, Figure 5 shows the way a single button on a digital watch moves it between states. One can analyse a diagram like this and check properties of the interface. For example, one can look for 'black holes' actions which lead one into parts of the interface from which it is difficult to escape. One can also see how easy or difficult it is to perform potentially harmful (but occasionally necessary) operations. Sometimes small slips in frequently performed sequences of actions will get into just such dangerous states.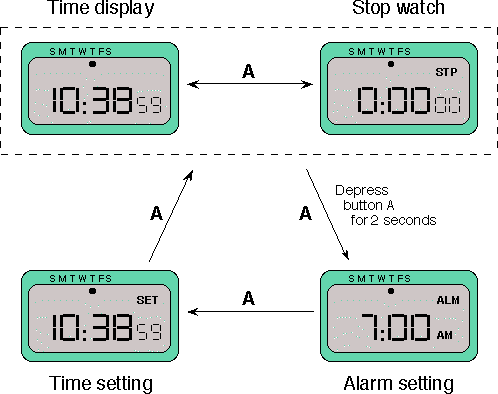 Figure 5 State transitions of a digital watch (from [1])