---
Research Techniques home page | notes contents | what is research | what others write | what others say | what others make | your own work | and finally
---
Research Techniques Alan Dix
Other people's work - what they say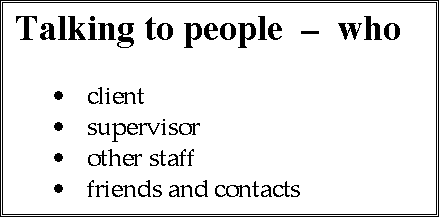 You will have access to a range of people during the course of your project. Of primary importance will be your clients. Although there may be 'objective' information about your clients' needs, a lot will depend on the conversations you have with them and also possibly your observation of them.
Whereas your client is your major source for domain knowledge, your supervisor will be your start point for academic study. However, the project is independent work, so don't expect your supervisor to know it all! When your supervisor cannot help another member of staff may. Note especially because of the integrative nature of the project, it is likely that you will need to obtain deep expertise from more than one area. Your supervisor and other members of staff are likely to have magazines, books or papers which can start you on your literature search. Finally, don't forget your friends who may be doing a project in a related area and who may have found useful references (and with whom you can discuss your problems in the bar) and other contacts, such as those from your placement year.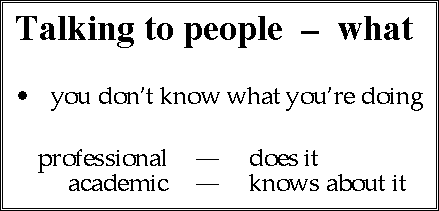 This document was very hard to prepare. When I first thought about the topic I thought "I don't know any research techniques" yes, sure I do research, but I haven't the faintest idea how I go about it. No this is not due to particular stupidity on my behalf, but is common. You will all of heard of the centipede which, on being asked how he managed to walk with 100 legs, thought about it for a second and then immediately fell over. We do so many things without knowing how. When you ask people things you must remember that. If you ask your client what is wanted, or what is done at the moment, do not expect an accurate answer. You will have to do the probing which goes beneath the surface. One of the differences between a professional and an academic in an area is that the professional can do things very well, but the academic knows about doing them. It is insufficient to simply do the work of your project - that is make a good product. You must also know about it, understanding the choices you have made and relating it to wider issues.
---
Research Techniques home page | notes contents | what is research | what others write | what others say | what others make | your own work | and finally

Alan Dix 12/8/97
---