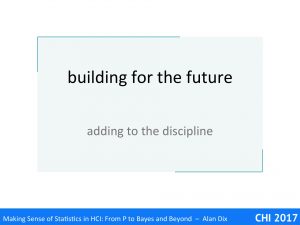 adding to the discipline
repeatability/replication – comparisons more robust than measures
meta analysis – reporting the details
data publishing – enabling open science
The touchstone of valuable research is the extent to which it builds the discipline, so that sum of knowledge after you have done your work is greater than it was before. How can you ensure this happens?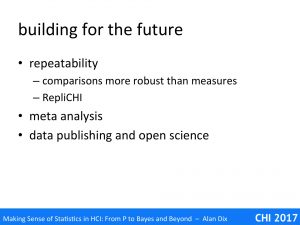 One part of this is repeatability, ensuring that you or others could replicate your study or experiment and get the same, or at least similar, results. At the CHI conference the RepliCHI initiative had a series of workshops and led to the addition of a "Validation and refutation" category in some subsequent conferences.
However, true replication is hard in HCI as it is difficult to precisely replicate the full context of even the most controlled experimental studies. The pool of subjects will differ even if university students, but form different institutions. The experimenter usually reads some sort of protocol, or greets subjects, so slight differences in the behavior could alter the mood of subjects. Similarly, the decoration of the room or lack of it , light levels, etc. all may alter behaviour.
Replication can even difficult even in apparently 'physical' situations. Many years ago I worked on agricultural sprayer research. We often used a apparatus that used a laser beam to measure the sizes of spray droplets. In one two-day series of experiments we carefully varied water temperature, quantity of surfactant, and variety of other factors, largely to see how carefully these needed to be controlled in other kinds of experiments. When we analysed the results there were some small but statistically significant effects that were surprising. After some time one of my colleagues suggested that as we had run the experiments over two days we should try adding a 'dy effect'. We did this and sure enough all the anomalous effects disappeared, it just seemed that the runs one day were in some way different form the other, despite all out efforts to control the situation. Maybe this was some atmospheric effect, or slight difference in the equipment, we never knew.
Replication is, of course, even harder in more ecologically valid or in-the-wild studies.
This does not mean one should not try to replicate, just one should have an awareness of the difficulties.   There are things that can improve this situation.
First is to ensure that you are careful to fully describe your methods including, for example, any instructions given to participants, or data used in trials, as well as the tests used, numbers of participants etc.
The second is to focus on differences or comparisons more than absolute values. The fact that one condition is 10% faster than another in one experiment is more likely to be replicable than the exact speed of the base condition.
Understanding mechanism will help with both of these.
Meta-analysis is about using multiple studies by different groups in order to cross-validate and find emerging patterns. Like replication, ensuring your work is amenable to meta-analysis requires you to be careful to report method and results clearly and completely.
One way to achieve this is to simply put everything into the public domain: making all materials you used, instructions, software (if applicable), and of course the raw study data whether survey reports, video, or keystroke logging as well as derived data all the way to the data that lies behind the graphs in your published papers.
Having this data available means that those seeking to replicate can compare different points in their process, and those seeking to do meta-analysis can calculate common statistics across different data sets, or combine the datasets as a whole. However, making your data open also means that other people can analysis it in totally unexpected ways, testing alternative models or theories, or mining it for emergent patterns.
There are ethical problems in HCI at very least you will usually need to anonymise the data. However, crucially you need to ensure that participants are fully aware that data may be sued for purposes other than your own experiments. Often, by the time researchers come to consider publishing their data it is too late to obtain these permissions, so openness needs to be a consideration form the very start of your research design processes.
There are also practical problems to document your data well enough. During my 1000 mile walk around Wales in 2013 I collected copious data from bio-data to blogs. When I had finished the walk and wanted make this data available as a public open science resource I found I had to learn a whole new skill of documenting the data: ensuring that those using it could do so without necessarily consulting me. Part of this is technical documentation: each field had to be described carefully, and part is about making sure that the user of the data knows exactly how it was collected. Happily, the care has paid off and I often get to ear of people using the data who have never been in touch with me to ask questions abut it.
There are also broader cultural issues. The UK has a periodic research assessment exercise, which graded every subject and institution's research. During the last such exercise, REF2014, the humanities panel included curated datasets as one of their categories of research output, but the science and engineering panel did not. It is not that STEM researchers do not think that data is valuable, but it is not valued, in the sense that careers, promotion andf esteem are attached to the analysis and implications of data, not the meticulous work of data collection itself.
Happily this is changing, many journals now mandate that data be provided for any publication and many universities are establishing data repositories alongside those for publications themselves.
However, despite these barriers, making your data available to the world is of immense value. You have often expended great effort in gathering it, it is surely worthwhile to see it reused by others … and, of course, by doing so you are doing your small part in building a stronger, greater and more robust discipline.