I was just reading the chapter on Benedict Anderson in "Key Thinkers on Space and Place"1.  Anderson forged the concept of a national imagination, the way nations are as much, or more, a construct of socio-cultural imaginings than physical topography or legal/political sovereignty.
However, this made me wonder whether this conception itself was very culturally specific, to what extent do people relate to nation as opposed to other areas.
I was reminded particularly of a conversation with, the much missed, Pierro Mussio. He explained to me the distinct nature of Italian cultural identity, which tends to focus on regional and local identity before national identity, partly because Italy itself is quite young as a nation state (a mere 150 years in a country which sees itself in terms of millennia). There is even a word "campanilismo", which is literally relating to the "bell tower" (campanile) in a town, meaning one's primary loyalties lie to that bell tower, that town, that community.
How do you see yourself?  Are you British or Geordie, French or Parisian, American or New Yorker?
I know I see myself as 'Welsh'.  Wales is part of Britain, but my Britishness is secondary to Welshness.  I was born and brought up in Bangor Street, Roath Park, Cardiff, but again while the street, area and city are foci of nostalgia, it is the Welshness which seems central.  For Fiona she is Cumbrian (rather than Wetheral, English or British), Steve who is visiting is British, but says his brother would say Scottish, despite both having spent equal amounts of time in Scotland whilst growing up and since.
I asked people on Twitter and got a variety of answers2, most quite broad:
"I always think English rather than British but I don't have a more specific area to identify with."

"I think I primarily think of myself as both "Brit" & "northerner". Lancastrian when differentiating myself from Yorkshire lot!"

"in decreasing granularity I'm a Devoner (south, of course!), west country-er, English, British, European, World-ean."
Some less clear:
"I'm confused specially. I am Coloradan and American by birth, but feel more at home in England, and miss Scotland."

"ooh, complicated. I'm British but not English. that's as specific as I get."
The last perhaps particularly interesting in its focus on what he is not!
Obviously the way we see ourselves varies.
The choice of a 'level of granularity' for location reminds me a little of the way in which we have some sort of typical level in a classification hierarchy (I think Lakoff writes about this); for example you can say "look at that bird", but not "look at that mammal", you have to say "look at that dog" or "look at that cat".  This also varies culturally including subcultures such as dog breeders – saying "look at that dog" in Crufts would hardy sound natural.
Some cities have specific words to refer to their natives: Glaswegian, Geordie, Londoner; others do not – I was brought up in Cardiff, but Cardiffian sounds odd.  Does the presence of a word (Cumbrian, Welsh) make you more likely to see yourselves in those terms, or is it more that it is that, where cities have forged a strong sense of belonging, words naturally emerge … I sense a Sapir-Whorf moment!
Now-a-days this is even more contested as loyalties and identities can be part of networked communities that cut across national and topographical boundaries.  In some way these new patterns of connection reinforce those focusing on human relations rather than physical space as defining countries and communities, but of course in far newer ways.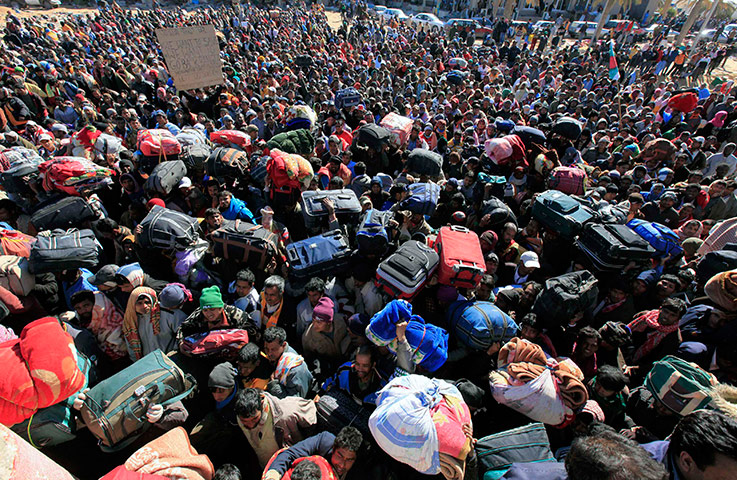 However, it also made me think of those parts of the world where there are large numbers of people with problematic statehood.  There is how we see ourselves and how states see us.  We tend to define democracy in terms of citizenship, and laud attempts, such as the Arab Spring, that give power to the people … but where 'people' means citizens.  In Bahrain the Shite majority are citizens and therefore their views should be considered in terms of democracy, whereas the migrant workers in Libya fleeing the rebels in the early days of the recent Libyan war, or the Palestinians in Kuwait during the first Gulf War were not citizens and therefore marginalised.
Defining citizenship then becomes one of the most powerful methods of control.  This has been used to powerful effect in Estonia leaving some who had lived the country for fifty years effectively stateless, and, while not leaving people stateless, in the UK new rules for electoral registration could leave up to 10 million, principally the young and the poor, voteless.
In the days of the nation state those with loyalties not tied to geography have always been problematic: Gypsies, Jews before the establishment of Israel, the various Saharan nomad trades.  Many of these have been persecuted and continue to suffer across the world, and yet paradoxically in a networked world it seems possible that pan-national identity may one day become the norm.
I've got 1st edition, but 2nd edition recently come out.[back]
Many thanks for those who Tweeted responses.[back]