Today looked like a good Tiree Ultra day, with 40 mile an hour winds (the odd gust at 50) and occasional shafts of sunshine between driving rain!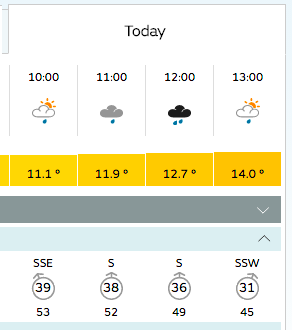 So buoyed by knowledge from three weeks ago that I could do it, I took my first run since the ultra.
My left leg is still feeling a little gammy, but with a 40 mph wind at my back I fair sailed along – until I turned round.  Progress on the return leg was … well suffice say I could have walked faster.
I have always avoided running in the rain, but after the ultra I knew I could do it and it wasn't so bad.  I also had a new rain poof that I'd got for the ultra – good equipment really does help.
There is something liberating about that "it can't be worse than …" feeling.
When I did the first Tiree Ultramarathon in 2014, it was a year after I'd walked around Wales.  If I got a pain whilst walking there was always the fear that it would be worse the next day, or that it would be the thing that stopped me entirely.
Just over 2/3 of the way round the 2014 ultra I began to get some pain in my right leg.  I'd pulled the Achilles tendon on that ankle a few years before, and so I was a little worried that it would go again.  But I thought, "only 10 miles to go, and it's just one day. I don't have to run again tomorrow and the next day; so what if I'm hobbling for a few weeks."
After walking 1000 miles day on day, a single day and mere 35 miles was suddenly less daunting.
Now, knowing I could endure a whole day running with horizontal rain stinging my cheeks, well what of a couple of miles in heavy drizzle and 50 mile an hour winds …
After Tiree Ultra 2017, everything feels easy.