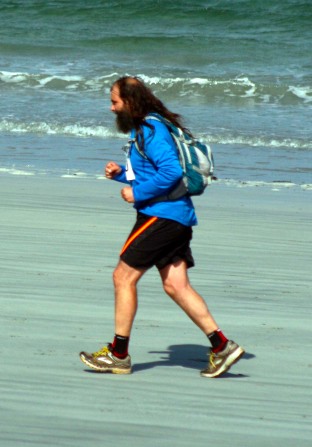 While 2013 was full of momentous events (Miriam getting married, online HCI course and walking 1000 years around Wales), 2014 seems to have relatively little to report.
A major reason for that is the REF panel and the time taken, inter alia, to read and assess 1000 papers.  I am not at all convinced by the entire research assessment process – however, if it is to happen it is needs to be done as well as possible, hence while still reeling from the walk (indeed asked whilst on the walk) I agreed to be on the panel at a relatively late stage late in 2013.
At the end of the year with the results out I guess the other members of the REF panels and I are either loved hated deepening on how different institutions fared … maybe it is good that I live on an island so far from anyone :-/
I guess I am no more convinced at the end of the process than I was at the beginning.  It was good to read so much over such a wide range of topics, I feel I have an overview of UK computing that I have never had before.  This was often depressing (so many niche areas that clearly will never affect anything else in computer science, let alone the world), but also lifted by the occasional piece of work that was theoretically deep, well reported and practically useful.
Beyond the many many hours of reading for REF, the world has moved on:
Fiona has begun to sell more textile art online and at events, including a stall at Fasanta where the Tiree Tapestry was also exhibited.
Miriam passed her driving test and has a car.
Esther has had a number of performances including a short film (although sadly I've not managed to attend any this year :-()
Personally and work-wise (the boundary is always hard to draw):
… and in 2015
who knows, but I've already entered for next year's ultra – why not join me 🙂